History
1857 - Under direction from Emperor Napoleon III construction of the road begins.
1864 - Road officially opens, though construction works continue for many years
1865 - The Printemps department store is opened by Jules Jaluzot and Jean-Alfred Duclos, today it coninues to operate
1867 - The first section is completed, running up to where Chaussee d'Antin - La Fayette is today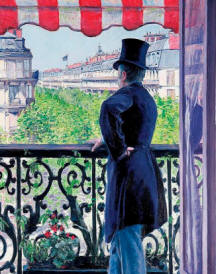 1880 - Gustave Caillebotte paints the Man on a Balcony, Boulevard Haussmann (Homme au balcon, boulevard Haussmann), today one of the most valuable works of the period
1904 - The Metro is directly connected to the Printemps department store
1905 - The Galeries Lafayette department store moves in to the road and their large store quickly becomes the flagship of the company and continues today.
1906 - The novelist Marcel Proust at the age of 35 moves in to number 102 where he lives and writes for over 10 years.
1913 - The private house of Édouard André is bequeathed to the nation and becomes the Musée Jacquemart-André on the death of his wife Nélie, the well known painter.
1923 - The Metro Saint-Augustin on line 9 opens, the first metro for the Boulevard but not the last as the line continues to be extended until 10 years later it runs most of the length of the road. Today there are plentiful Metro stations.
1926 - The last part of the boulevard, from Chaussee d'Antin - La Fayette through to Richelieu - Drouot is completed. Rebuilding works captured here in an early black and white film
1975 - The first non British branch of Marks & Spencer's opens here
1991 - Statue is erected to Baron Haussmann
1999 - One of the newest train stations, the RER Line E station Haussmann – Saint-Lazare, opens.