Sightseeing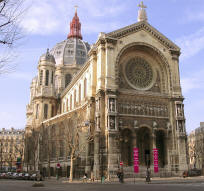 L'église Saint Augustin - This 19th century Byzantine styled church dedicated to Saint Augustine was constructed using the same steel technology from the same factory as the Eiffel Tower, but you wouldn't realize it from the beautiful stone and glass interiors that it is in fact "modern" steel framework inside. With a facade showing the four evangelists and above that the twelve apostles it is very classical imagery. The stained glass windows depicting scenes of the first century together with the colorful angels on the columns make this a beautiful stop, and very quiet. The back of the building faces the boulevard. With outside it the garden with many statues including one of a horse riding Joan of Arc and another of a Déroulède.
Galeries Lafayette - What more can you say about the greatest department store in the world, go here to see as much as to shop. Dine here and see the stained glass ceiling. Don't miss the open public terrace on the 8th floor which provides panoramic views of the city, including the Eiffel Tower!
40, boulevard Haussmann, 75009 Paris, France

Musée Jacquemart André - A private mansion that has been assigned to the state for the enjoyment of the public. As well as the beautiful building find inside collections of rare paintings and art from around the world. Being originally a private residence it allows you to get up close and personal with the art in ways that is not possible in larger museums. Find it at 158 Boulevard Haussmann. Download the free app from their website. website
Statue de Georges Eugène Haussmann, just on the corner with Rue de Laborde, this statues to Baron Haussmann wasn't erected until 1991. Today it is a rare reminder of the importance to the city of this leading city planner, who in the end resigned his post, but not before setting in motion the plans which have lead to modern Paris as we see it today. On the plinth of the statue it read "Baron G.E. Haussmann, 1809 - 1891 Prefet de la Seine de 1853 a 1870"
Chapelle Expiatoire - This small chapel was dedicated to Louis XVI and his wife, Marie Antoinette, though of course in the end there were not buried here. Contained in the small green Square Louis XVI square it is an unusual example of late neoclassical architecture and well worth a visit.
Palais Garnier - Opera National de Paris - Completed in 1875 this grand building was built specifically for the Opera, it is named after the architect, Charles Garnier. Take a tour of the historic building and learn about it's influence past and present. An entrance fee of 9 Euros applies to those visit the building not for a performance. There are guided tours in English at 11:30, why not try dining at the L'Opera Restaurant after your tour? website